7 defining features of The 
OPTIMA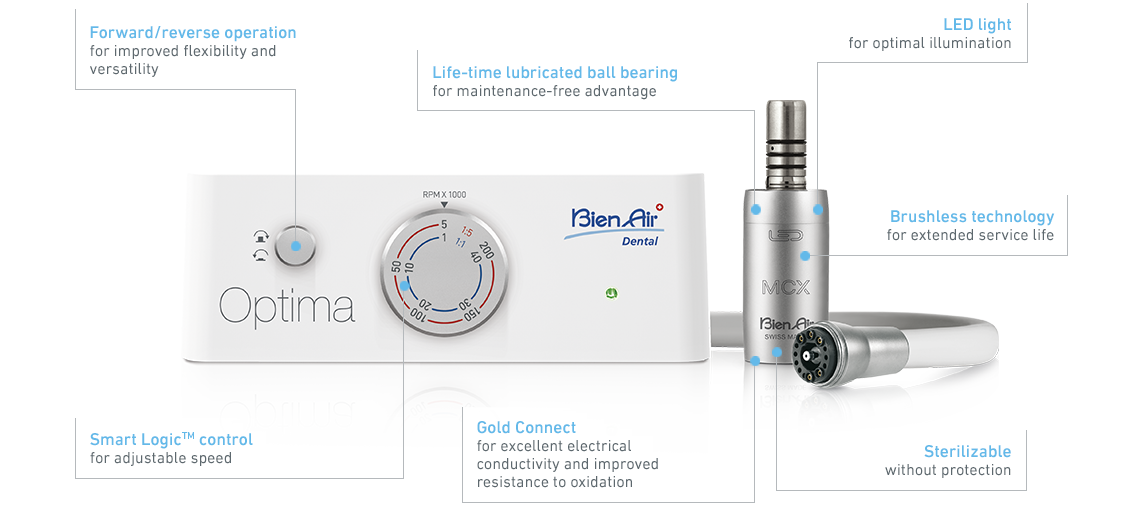 The system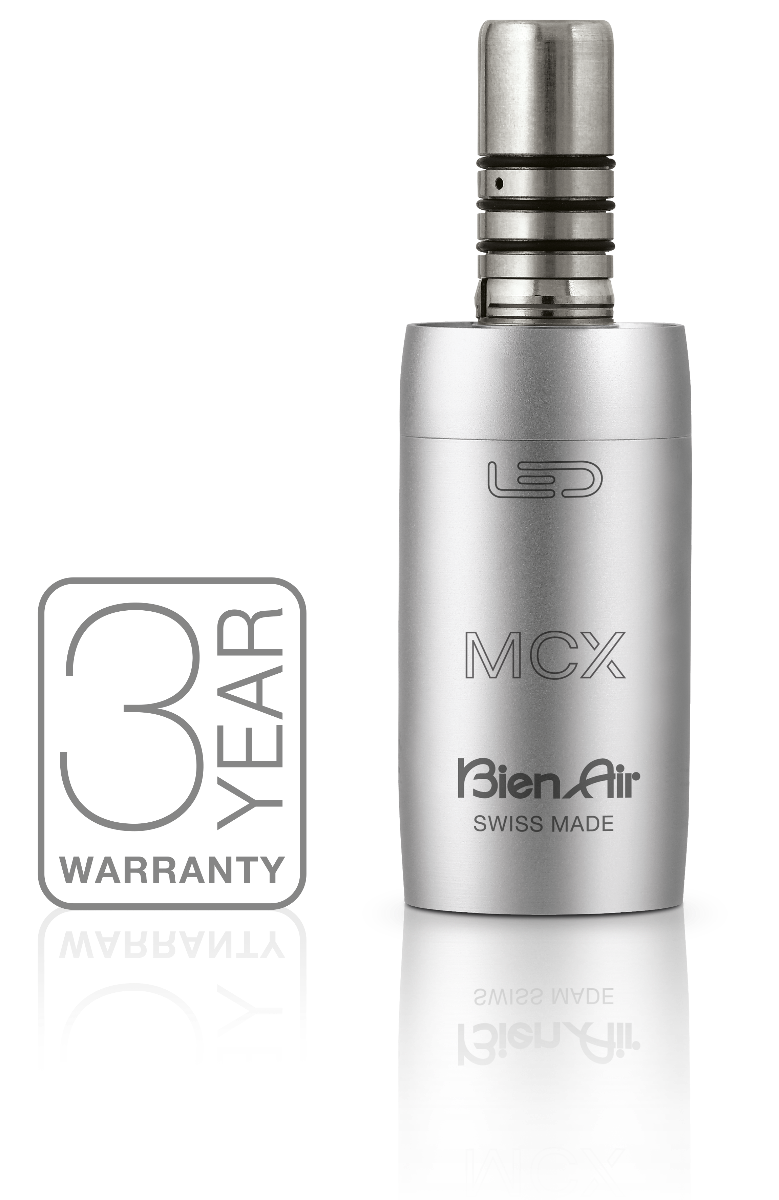 An integral part of the OPTIMA system, the last generation MCX-LED motor features brushless technology for superlative performance in both high- and lowspeed procedures.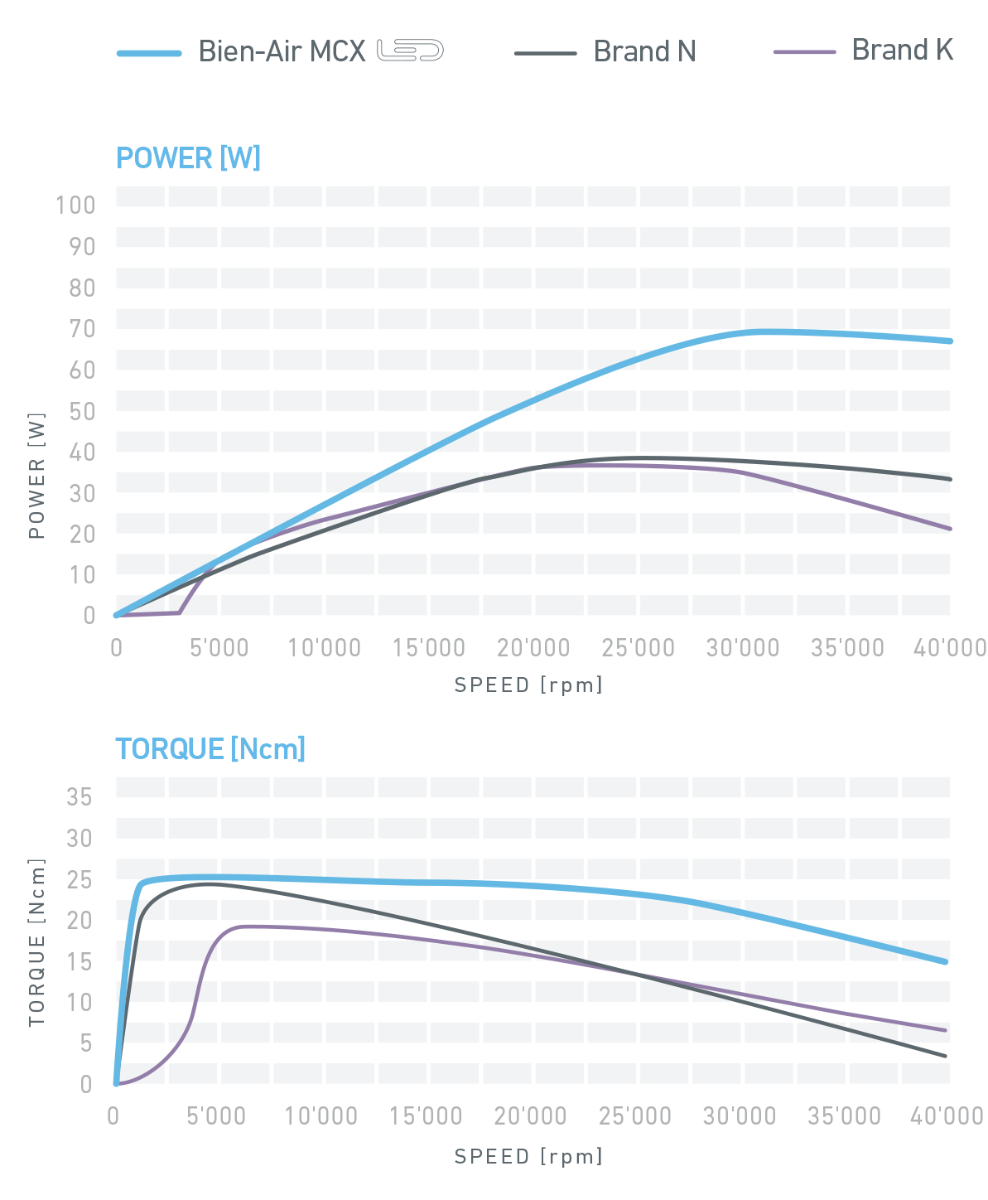 Micro-series

. Welcome to a new dimension.

The MCX micromotor and Micro-Series contra-angle are no larger than a turbine. This reduction in size ensures perfect balance by greatly reducing the effort required to hold the handpiece. Ensuring less fatigue at the end of the day.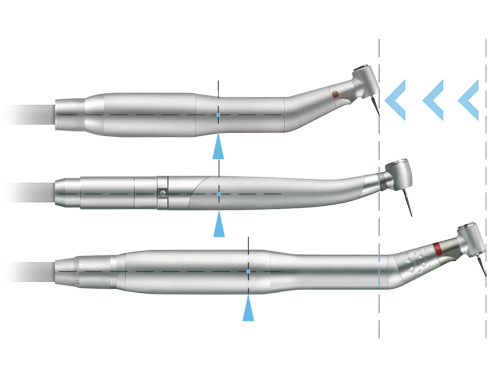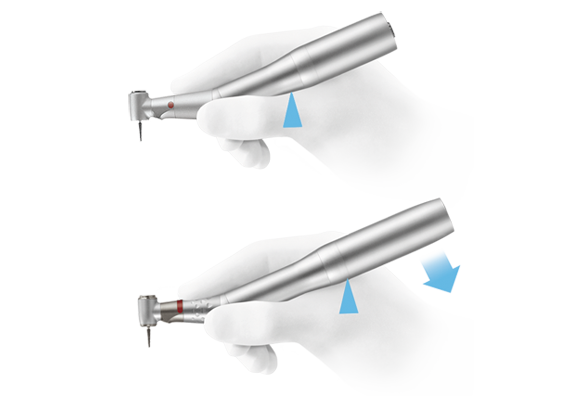 Bien-Air 
CA 1:1 L

 and 

1:5 L Micro-Series

Bien-Air CA 1:1 L and 1:5 L Micro-Series contra-angles are perfect for all high and low speed procedures. Vibrations and noise are cut in half while providing the additional benefit of constant speed.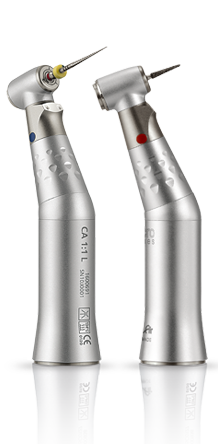 Technical Data
OPTIMA
OPTIMA MCX INT
INTERFACE
–
LCD display with preprogrammed procedures
RESTORATIVE & PROPHYLAXIS PROCEDURES
✓
✓
TORQUE CONTROL
–
–
ENDODONTICS PROCEDURE (AUTO-REVERSE & AUTO-FORWARD)
–
–
MOTOR COMPATIBILITY
MCX LED
MCX LED (up to 2 motors)
SPEED RANGE
1000 -40'000 rpm
1000 – 40'000 rpm
WARRANTY
2 to 3 years 1
2 to 3 years 1
MOTOR SPECIFICATIONS
MCX LED
MCX LED
TYPE
Brushless, internal spray
Brushless, internal spray
MAX TORQUE
2.5 Ncm
2.5 Ncm
WEIGHT (G)
78
78
DIMENSIONS
Ø 21mm x 42mm
Ø 21mm x 42mm
LED LIGHT
✓
✓
LIFE-TIME LUBRICATED BALL BEARINGS
✓
✓
STERILISABLE WITHOUT PROTECTION
✓
✓
HOSE MOUNTING/ROTATION
Screw / 0º
Screw / 0º
WARRANTY
3 to 4 years2
3 to 4 years2
REFERENCE
Optima 1700595-001
Optima Blue 1700596-001
Optima Orange 1700597-001
Optima Green 1700598-001
Optima Pink 1700599-001
OPTIMA MCX INT 1700486-001